ADVANCED DIVER CERTIFICATION
How do you become and Advanced Diver, and how will this SCUBA course will improve your SCUBA Diving skills?
Becoming a PADI Advanced Diver in Cozumel is really fun. It will take you only two SCUBA Diving days.
You only need to complete the Advanced Diver theory, which we strongly recommend to do online before your holidays to Cozumel, by taking the Advanced eLearning® Course at the comfort of you home, or read the Advanced Diver Book, here in Cozumel during this two SCUBA diving days.
This course will prepare you to see the underwater work in a new dimension, you will be supervised during this training by one of your local guides, and will experience the underwater skills listed bellow.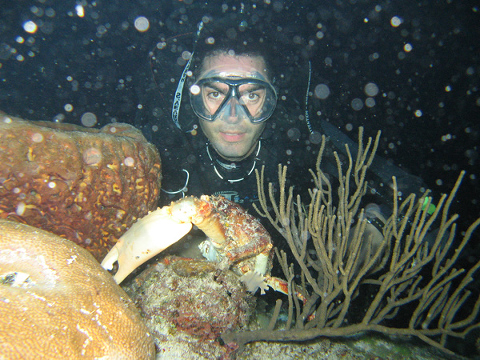 How many dives do you need for advanced open water?
The course includes five dives: a deep dive below 18m/60f, a navigation dive, and three specialty dives. Gain experience, build confidence and discover your diving abilities.
UNDERWATER NAVIGATION
Underwater Navigation is the important skills you could have. This skills will help you to do self Guided SCUBA Dives with your Buddies, and have the ability to return to the shore or boat, avoiding the risk of drifting away or surfacing on a dangerous location to see where your exit is. This Diving Skill is very important during a Night Dive and when de visibility is limited or when you are not familiar with a Diving Spot.
DEEP DIVE
Deep Dive is a very important SCUBA Diving Skill, the underwater world in Cozumel below 100 ft. is fascinating and few divers could resist their chant, so it is recommended to have the skill to experience it on safe way, and avoid running out of air or surfacing to fast and get the BENDS.
Deep Diving is safe but you have to practice it in the right way, We will give you Supervised training and a slow descent while you acclimate to this new experience.
NIGHT DIVE
DRIFT DIVING
UNDERWATER NATURALIST