DISCOVER SCUBA DIVING
Discover SCUBA Diving, "the Resort Course", is the most popular and fun course that you could take in Cozumel Island and the world. It will let you experience the underwater world autonomous, but supervised by a SCUBA instructor or PADI Divemaster, up to a deep of 30Ft.
SCUBA DIVING FOR ALL THE FAMILY
This course is aimed to all the members of the family and can be follow up by a boat dive at Paradise Reef or the next day to Palancar Reef.
How Does It Work
Before your immersion in the water, you will take a short lesson at the beach, and learn what conforms a SCUBA Equipment, Regulator and BCD, and how to use it on a safe manner.
Also you will learn few basic skills on the surface and underwater, before proceeding to your 30ft immersion, some of this underwater skills are:
take your mask underwater and put it back, take your regulator second stage and put it back in your mouth under water, share the octopus, which is an alternate air source in case of an emergency, and few other skills, like equalizing your ears, all of this are very simple and easy skills that you will master in matter of minutes.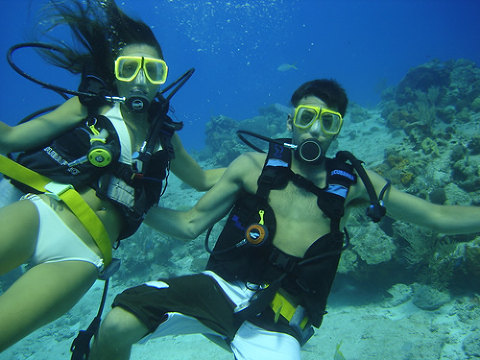 For this course all equipment is provided, and it is performed at Tikila Beach Club or Sunset Beach Club. So your friends and family can join ether to dive with you or to eat and drink while you SCUBA Dive.
The experience take about 3 hour to complete and you are welcome to stay at the Beach Club after your dive and enjoy the rest of you stay.
The next day you are welcome to sign up for a Two Tank Dive with a privet Divemaster or to continue your education to become a world wide certifies Open Water Diver .