SCUBA DIVE TOURS ON COZUMEL
TWO TANK DIVE TRIPS
Our personalized Two Tank Dive Trips in Cozumel, departs every morning and afternoon, to one of our beautiful reefs in the island, from Palancar to Paradise Reef.
We use small boats, so you will see more fish than fins during your scuba dive with Blue Mayan Divers.
Our local guides are PADI Dive Master Certified, and most of them have over one thousand dives under their weight belt, so you are in good hands.
we will take you to the best SCUBA diving spots, we want you to have the best time, so you recommend us to all your friends and family.
What to Expect
Cozumel drift diving is incredible fun, and depending on the reef you will feel like you are flying.  If you want to know more about a reef or Drift Diving Certification contact Us.
We aim for 60 minutes bottom time, whenever is possible, for you to get more fun while underwater.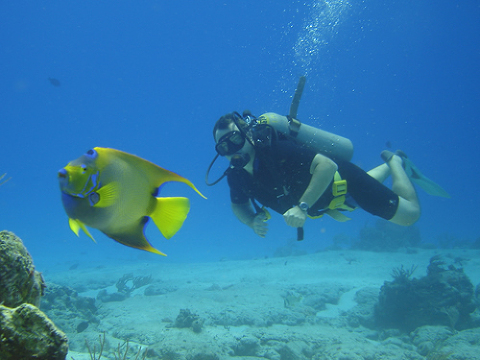 PRIVATE COZUMEL TWO TANK DIVE TRIPS
Blue Mayan Divers also offer private SCUBA Dive Trips, for you and your family, inquire.
Do you own your own diving gear? please let us know, so we can check your scuba diving regulator and BCD before your Dive.
Price:
Cozumel Two tank dive trip $90*
Times 9AM to 1:30Pm and 1:30PM to 5:30PM. (*price does not include equipment).
SCUBA Equipment $25
Includes: BCD, Regulator, Mask, Fins and Wetsuit.
100 CF Tank $5
Continue Your SCUBA Diving Training
Improve your skills, Blue Mayan Divers, recommend you to take the Advanced Diving Course or Deep Diver Specialty while you are in Cozumel, another must have specialty is Enriched Air Certification , this one will allow you to have longer bottom times and avoid the after SCUBA Diving, tiredness, read more about it on or specialty section.
Trips to Punta Sur or Maracaibo are offered only to advanced divers, after we assure your diving skills are up to the challenge to be safe while on this amazing 130 ft dive.
SCUBA Trips to see the bull sharks in Playa del Carmen are available in the winter, please inquire.
Booking ahead of time is recommended all the time, but especially in high season will ensure a space for you and your family.
Please call me or email me if you need any information about where to stay, where to rent a car, other activities to do while you are in Cozumel Island.