DEEP DIVER SPECIALTY
Having the opportunity to do a deep diving, beyond 100 ft is a complete new dimension, just by looking up and see the crest of coral rising up like a mountain over 100ft is a view you will never forget as Jack Cousteau described in it's exploration of Palancar Reef in Cozumel.
Cozumel Barrier Reef is famous for it's incredible wall dives, which goes deeper that you could see.
Beside this we also have few famous reef dives, like the Devil's Throat and Maracaibo that only a handful of divers see each year, this course will prepare you to dive in them.
Email Us Today to sign up for SCUBA course.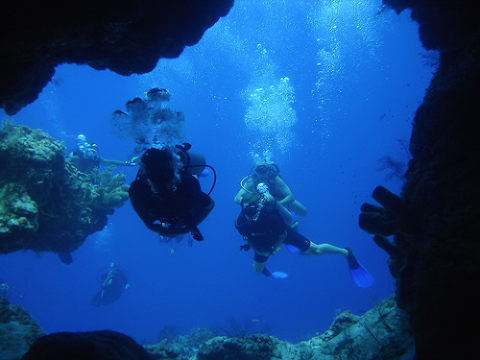 ABOUT THE COURSE
During the Deep Diver course, you'll learn how to plan deep dives, manage your gas supply and how to identify and manage narcosis.
You'll learn about buddy contact procedures, safety considerations and buoyancy control at depth.
HOW TO START DEEP DIVING
When you dive below 18 meters/60 feet, there are special safety considerations. If you're ready to expand your boundaries, a PADI Instructor will help you gain the skills and confidence to explore to a maximum depth of 40 meters/130 feet.
INDEPENDENT STUDY
PADI eLearning®
Online learning makes it easy to fit scuba lessons into a busy schedule. Complete the knowledge development section of your course whenever, wherever it's convenient for you.
Work at your own pace, online or offline, using a computer or mobile device. Connect with your instructor for in water training, or whenever you have a question.
ELEARNING TIME COMMITMENT: 2-4 HOURS
AT THE DIVE SHOP
With Your Instructor
During four dives with a PADI Instructor, you'll practice descents, buoyancy and safety stops. Through hands-on exercises, you'll discover how deep dives affect color, physical objects and your brain.
PREREQUISITES: PADI ADVENTURE DIVER (OR QUALIFYING CERTIFICATION)
TOTAL TIME COMMITMENT: 2-3 DAYS (DIVES MUST BE COMPLETED OVER A MINIMUM OF TWO DAYS)
MINIMUM AGE: 15 YEARS OR OLDER