OPEN WATER DIVER COURSE
GET CERTIFIED! TAKE YOUR SCUBA CERTIFICATION IN COZUMEL
Join the fun on your next vacation, in just three days you can take the Open Water Diver Course, and dive with your fiancé, friends or family, this is the way to go, to be fully prepare to explore the underwater world up to 60 ft. deep, completely autonomous, at any SCUBA Diving Tour all over the world.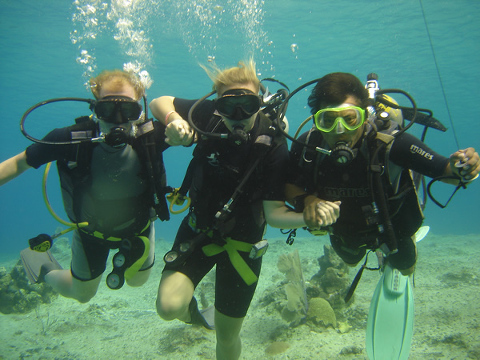 e Learning
To make it more easy and fun for you, we recommend you to take eLearning Open Water Course online, at your home, before you come to Cozumel, to avoid a marathon book reading and tests while you're on your vacations.
Open Water Diver Course Overview:
The Open Water SCUBA Diving Course is divided in 3 Sections:
The Theory, The Confined Water and Open Water Dives.
Before you go to your SCUBA Diving Trip by boat, you should complete the first two sections, lucky for you the confined water is taught at Tikila Beach or Sunset Beach, right on the crystal blue waters and also full of colorful fish, Does this not sound all ready better that taking the course inside a pool?
Section One: Theory
To complete this section you should read the Open Water SCUBA book or  take e Learning course at home,
at the best time for you.
Section Two: Confined Water Training
You should take one or two beach sessions, to master the SCUBA Diving skills you need to be safe wile under water.
Prerequisites
BE 10 YEARS OR OLDER
The Scuba Diving Gear You Use
In this scuba diving course, you learn to use basic scuba diving gear and standard accessories.
The Learning Materials You Need
We offers a variety of home-study materials for the Open Water Diver course. While eLearning is the most convenient option, you may also chose a book and DVD package or a multimedia DVD-ROM.
Watch the latest PADI Go Dive Video about learning to dive!