NITROX DIVER SPECIALTY
NITROX or EANx also known as enriched air, contains less nitrogen than regular air. Breathing less nitrogen means you will avoid the after diving fatigue, making this great for elderly divers, Also you can enjoy longer dives and shorter surface intervals if needed, but the most important one, is that it is fun.
No wonder Enriched Air Diver is the most popular specialty you can take in Cozumel if you are all ready a Certified Diver.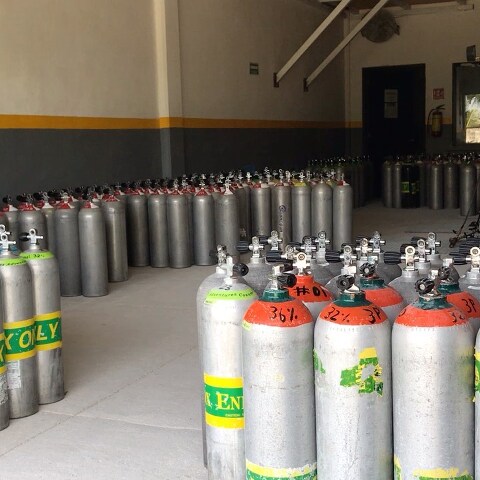 HOW TO EARN AN ENRICHED AIR NITROX CERTIFICATION
To learn NITROX you have few options, if you are all ready in Cozumel, you can take the course at your hotel by reading a book after that, you can sign up for two tank dive by boat using NITROX tanks with your instructor in stead of just compressed air.
This allows you to make longer dives, but how?  Yes in Blue Mayan Divers we all ready aim for sixte minute bottom time but in this course you will make a 70 minutes bottom time as long you still have air, so get your camera ready because this probably will be the longest dive you have done.
If you are not in Cozumel yet, you can take your course online, and just met Us when you get here, to do two Nitrox Dives with one of our guides.
INDEPENDENT STUDY
Online learning makes it easy to fit scuba lessons into a busy schedule. Complete the knowledge development section of your course whenever, wherever it's convenient for you.
Work at your own pace, online or offline, using a computer or mobile device. Connect with your instructor for in water training, or whenever you have a question.
ELEARNING TIME COMMITMENT: 2-4 HOURS
AT THE DIVE SHOP
With Your Instructor
After finishing your independent study, you'll learn how to analyze a tank, fill out an enriched air log, and set your dive computer for Nitrox.  There are two optional dives.
PREREQUISITES: PADI OPEN WATER DIVER (OR QUALIFYING CERTIFICATION)
TOTAL TIME COMMITMENT: 1-2 DAYS
MINIMUM AGE: 12 YEARS OR OLDER